Manor History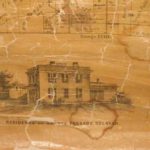 This picture of the original house, owned by George Passage and built in 1856, was taken from a plat of survey map of Walworth County dated 1857. Around the perimeter of the map were prominent houses in the county, and what is now called the Main Street Manor of Delavan was one of the 12 or so drawings of those houses in the developing area. As shown in the picture, there was another wing of the house located in what is now the back yard. Most likely it was a summer kitchen, but as to what happened to it more research is needed. There was also a large horse barn, located on what is now the residence to the south.
The house has undergone numerous changes over the 156+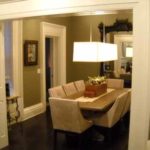 years. During renovation we discovered the back stairwell used to turn into the dining room next to the side entrance. When the side porch room was added for enclosed access to the basement and root cellar, the stairway was routed to that room, providing private access to the upstairs duplex (now the Bay Suite Room) and the wall in the dining room was enclosed.

The original yellow pine plank flooring can b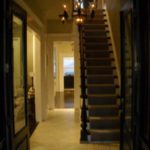 e seen in the second floor hallway, as well as the original stairway, banister, and original doors to the upstairs bedrooms. All have been carefully restored to enhance the antiquity of the house.
More recently… The concept of the Main Street Manor of Delavan was born in the early spring of 2010. Planning for my retirement from teaching 5th grade math and science for the Chicago Public Schools, I was looking to find something that would fulfill my passions for both food and meeting

and engaging with people. The property that is now the Main Street Manor of Delavan became available and the vision of the Bed and Breakfast came into view.
A complete renovation lasting two years has resulted in a magnificent setting restoring the house to showcase it's beauty and original grandeur. Careful attention has been given to

extensive woodwork and space to achieve a grand old house feel that has been updated to the 21st century
with emphasis on a more open concept for interaction.

The Manor now features five bedrooms, each with p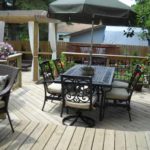 rivate baths, a library filled with books for guests to take and enjoy, a spacious enclosed front porch for gathering, a beautiful and serene back yard featuring 3 decks (one exclusively for dogs) and a pergola adjacent to a waterfall. All has been designed for quiet relaxation and escape with an elegant feel.